Today in America, roughly 20 percent of the population have some degree of hearing loss. And of the 10 million between ages of 45 and 64, only 1 in 7 has taken steps to correct that loss with hearing aids. If you've recently joined that "1 Club," your life is about to change for the better. Once you've adjusted to your renewed hearing, make sure you're making the most of it — these tips will help you along the way.​
Make the right choice
From the severity of your hearing loss to your personal style, activity level, budget and more, there is a lot to consider when deciding which hearing aids are right for you. Digital or analog? Behind the ear or receiver-in-canal? Read up and talk with a hearing professional to help you fully understand all of the advantages of your options. The right choice will make all the difference!
Manage your expectations
According to Mayo Clinic, it's unrealistic to expect your hearing to fully go back to the way it used to be. Remember that your goal is to improve your hearing and quality of life. Understanding the capabilities of your hearing aids will help you adjust more quickly — and use them to their full advantage.
Take baby steps
Whether your hearing loss was sudden or gradual, know that improving it can take some time. Don't worry, though, we're not talking about years! Just take it slowly. AARP suggests that you start out using your hearing aids for a few hours a day to get used to them. It's also a good idea to gradually increase the amount of noise you surround yourself with — start with one-on-one conversations, then move on to group conversations and livelier environments. As your ears and brain acclimate to your new, assisted hearing ability, it will begin to feel normal again.
Embrace the technology
Once you've grown accustomed to your hearing aids, it's time to embrace the technology inside them. Depending on whether yours are digital or analog, there are a number of built-in or programmable features that you can adjust or turn on and off to customize and enhance your hearing experience. This is also a great time to explore the many accessories at your disposal— including microphones, noise reducers, streaming devices and more.
Care for your hearing aids
From keeping them away from animals and small children to using them in extreme temperatures, caring for your hearing aids is important. From moisture and mold to battery care and, of course, ear wax, you can manage the health of your hearing aids with a little daily attention. Your hearing aids are no small investment, and this guide from the Better Hearing Institute[RM2] provides detailed information to help you protect it.
Keep them current
Possibly the #1 thing you can do to get the most out of your hearing aids is to make sure they are still meeting your needs. Your hearing can continue to change over time, so it's important to schedule regular hearing assessments with your audiologist to make sure your hearing aids are still working as hard as you need them to.
Talk about it
There are nearly 38 million adults with hearing loss in the U.S. That means there's a lot of advice and experience out there for you to learn from. Whether you prefer to talk with peers or hearing professionals, just be sure to take advantage of the abundant resources available to guide you toward a better hearing experience.
Still wondering if you really need a hearing instrument? Find out with our free online hearing test and get your results instantly.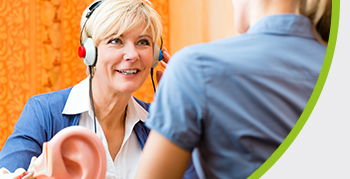 Test your hearing for
FREE and get results instantly.
Take the test